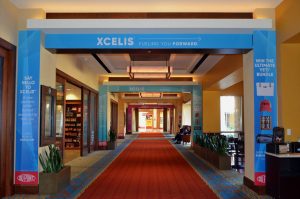 DuPont gave its new XCELIS™ fuel ethanol platform a colorful debut at the National Ethanol Conference last month in San Antonio, with a rainbow of pastel colored arches along the walkway to the meeting area.
"XCELIS is really the way we're approaching the fuel alcohol market globally now as DuPont," says Judy Underwood, DuPont Global Marketing Lead. "It's a new approach pulling together all of the tools and technologies that we have access to and bringing them to this market."
XCELIS is a partner-based approach tailored to each customer's unique needs and Underwood says they unveiled XCELIS at the NEC because they know a lot of producers attend that event. "A lot of folks are invested and involved in the RFA," she said.
Learn more about XCELIS in this interview. Interview with Judy Underwood, DuPont XCELIS