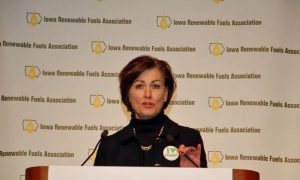 Gov. Kim Reynolds of Iowa and five of her Midwestern counterparts sent a letter to President Donald Trump this week thanking him for his continued support of the Renewable Fuel Standard (RFS) and urging him to reject proposals designed to weaken or waive "this key pillar of the farm economy."
Governors Eric Holcomb of Indiana, Jeff Colyer of Kansas, Eric Greitens of Missouri, Pete Ricketts of Nebraska and Dennis Daugaard of South Dakota, signed on to the letter which asks the president to reject, in particular, any "RIN cap" or waiver credit proposal, as put forth by Sen. Ted Cruz of Texas.
The governors note that "adopting Senator Cruz's RFS waiver credit proposal would have the same real-world effect as reducing RFS levels during an annual rule-making."
.