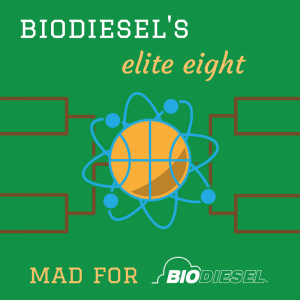 March Madness kicks off this week, showcasing the very best of college basketball. In that spirit, the National Biodiesel Board (NBB) has released its own bracket of colleges and universities upping their game with a different kind of prowess – biodiesel research, production and education. Many are members of the Next Generation Scientists for Biodiesel (NGSB).
From East-to-West, here are NBB's list of the "Elite Eight" biodiesel programs:
Yale University (New Haven, Connecticut): Graduate researchers in Dr. Julie Zimmerman's lab have investigated the use of microalgae as a biodiesel feedstock. Graduate student Mary Kate Mitchell received a travel scholarship and presented her research as a student member of NGSB at the National Biodiesel Conference & Expo earlier this year.
Rowan University (Glassboro, New Jersey): A team of undergraduate engineering students is working to develop a process that would reduce the energy consumption needed to obtain oil from a wet microalgae feedstock. Their head coach, Dr. Iman Noshadi, is an NGSB alum and past scholar.
North Carolina State University (Raleigh, North Carolina): The school has a grease collection program on campus which is turned into commercial biodiesel. Also, it's where NGSB co-chair Jennifer Greenstein conducts her research developing biocatalysts that are high temperature-tolerant lipase enzymes generated by bacteria.
Loyola University (Chicago, Illinois): The Searle Biodiesel Program's biodiesel lab produces fuel from low-purity methanol, certified with the Illinois Green Business Association, and the student-run enterprise bills itself as the first and only school operation licensed to sell biodiesel in the United States. Loyola students have also developed a Zero Waste Production Process with current research focused on wastewater treatment with algae.
Missouri University of Science and Technology (Rolla, Missouri): The Chemical Engineering Department at MS&T is developing a Multi-tubular Supercritical Separative Reactor (MSSR) to produce biodiesel. The start-up business created by students Shyam Paudel and NGSB Co-Chair James Brizendine, who have been accepted into an entrepreneurial program at the Technology Development Center in Rolla, Missouri.
University of Kansas (Lawrence, Kansas): The KU Biodiesel Initiative produces biodiesel from used cooking oil generated on campus, with the goal of meeting the requirements of KU's buses, landscaping and maintenance equipment, and power generators on campus. Glycerin produced from biodiesel process is repurposed to create a soap product.
University of Nevada Reno (Reno, Nevada): As part of a growing Sustainable Dryland Agriculture Initiative, UNR is developing new ways to produce food, forage and fuels from underutilized semi-arid regions with crops including camelina, agave, prickly pear, and gumweed. The chemical engineering department is researching advanced conversion methods to optimize biofuel production, including biodiesel, from traditional and dryland crops. NGSB Co-Chair Jesse Mayer has attended the National Biodiesel Conference and Expo five times – a student record.
University of Idaho (Moscow, Idaho): The Biological Engineering Department has an advanced biofuel lab of more than 10,000 square feet for biodiesel production, testing and research. A recipient of the USDA National Biodiesel Education grant, the school maintains a biodiesel education website with hundreds of articles, videos, and educational materials for academia, biodiesel producers, users, policymakers and the public.
One late wildcard addition is:
Clemson University (Clemson, South Carolina): NGSB alum David Thornton and Clemson University are teaming up to train facilities personnel and instructors to bring the school's biodiesel plant back online with the goal to produce about 3,000 gallons of biodiesel per year from waste vegetable oils on campus, which will displace about 20 percent of the diesel fuel used in campus vehicles.