Discussions are expected to continue this week between oil refinery and biofuels interests over the price of Renewable Identification Numbers, or RINs, which were created under the Renewable Fuel Standard (RFS) as a way to encourage refiners to blend more biofuels.
Renewable Fuels Association (RFA) member plant owners are united in their opposition to the idea of capping RIN prices as low as ten cents to help struggling refiners. The industry has released studies over the past week showing how a price cap of $0.10/gal to $0.20/gal would "likely reduce the effective ethanol mandate from 15 billion gallons to about 14.3 billion gallons in 2018."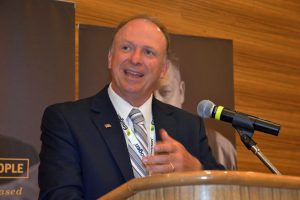 Absolute Energy CEO Rick Schwarck, who attended a White House meeting on the issue with President Trump on March 1, says studies also show it would immediately reduce the price of corn by 25 cents a bushel.
"A billion gallons of RINs would cost $100 billion, but that's a billion gallons of ethanol that would not be made, and that's 350 million bushels of corn that wouldn't be ground," said Schwarck. "So that's about $3.5 billion worth of damage to the rural economy for a $100 million of these credit waivers for the oil industry."
Audio file – Rick Schwarck, Absolute Energy
Randy Doyal, CEO of Al-Corn Clean Fuel in Claremont, Minnesota says a cap on the price of a RIN sets the price for a refiner to buy a waiver so he has no incentive to blend any ethanol. "It doesn't create demand, it destroys it, and that's not acceptable," said Doyal.
Audio file – Randy Doyal, Al-Corn Clean Fuel
Jeanne McCaherty with Guardian Energy, which manages ethanol plants in Ohio, North Dakota and Minnesota, says the RFS is working because it has made a difference in rural communities, and a cap on RIN prices would undo that. "For us to cap RINs, change the RFS and reduce demand, would set us hugely backward," she said.
Audio file – Jeanne McCaherty, Guardian Energy
Greg Thompson is CEO of White Energy, based in Texas, and there would be a significant impact on the industry if the RIN price were capped. "It's critical that we let the market place and the dynamics play forward in the setting of RINs (prices)," he explains.
Audio file – Greg Thompson, White Energy