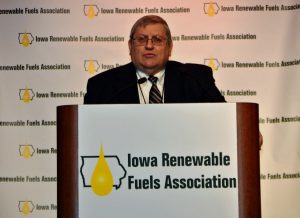 A new study, authored by John Urbanchuk of ABF Economics and commissioned by the Iowa Renewable Fuels Association (IRFA), finds that nearly 50,000 Iowa jobs are supported by biofuels production. IRFA Executive Director Monte Shaw says the study indicates how many livelihoods are at stake in the continuing efforts by Texas Senator Ted Cruz to convince the White House to undermine the Renewable Fuel Standard (RFS) for the sake of oil refiners.
"Undermining the RFS will not save one refinery job in Pennsylvania, but as this study reminds us, it could push thousands of farm families over the economic cliff," Shaw said. "Embracing Senator Cruz's anti-RFS proposals would be a complete abdication of President Trump's pledge to voters to defend the RFS. We are confident that facts, common sense, and past commitments will carry the day."
In addition to supporting 50,000 jobs in Iowa, the study found that in 2017 the renewable fuels industry in Iowa generated more than $2.4 billion in household income for Iowans and accounted for $5.0 billion, or 3.4 percent, of Iowa GDP.