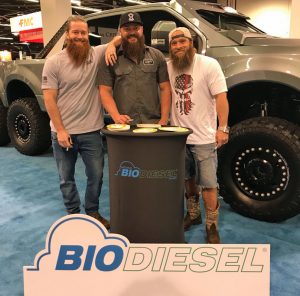 The DieselSellerz, stars of the Discovery Channel show "Diesel Brothers" were a big hit at the Commodity Classic last week as they unveiled their latest creation – a fully customized, biodiesel powered, Ford F550 Powerstroke diesel.
The truck was built in partnership with the Minnesota Soybean Research and Promotion Council as a way to highlight biodiesel as a commercial fuel available to consumers nationwide and was on display during the Commodity Classic at the Anaheim convention center in the National Biodiesel Board booth.
Minnesota soybean farmers Pat Sullivan, Kris Folland and Craig Bangasser became part of filming for Discovery's "Diesel Brothers" show over the past year and helped the brothers from the DieselSellerz unveil the long-awaited Minnesota biodiesel truck
The truck was designed from a Ford platform using OEM drivetrain parts and fueling systems that already support the use of the alternative fuel in regular applications.
The episode of Diesel Brothers that will feature the truck is tentatively scheduled to air later this spring on the Discovery Channel.