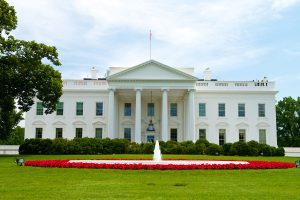 A White House meeting Thursday with representatives from both the biofuels and refinery industries was the latest effort this week to try and find a compromise on the Renewable Fuel Standard (RFS) that is acceptable to both sides.
Biofuels representatives at the meeting included Todd Becker of Green Plains Renewable Energy; Jeff Broin, POET; Charlie Good, Iowa fuel retailer; Bill Horan, Western Iowa Energy; Randy Howard, REG; and Rick Schwarck, Absolute Energy. Three refiner representative, four senators, EPA administrator Scott Pruitt, and USDA Deputy Secretary Steve Censky rounded out the group.
Reports are that increasing use of E15 and putting a cap on Renewable Identification Number (RIN) prices were the main options discussed, and ethanol interests hope President Trump favors the E15 approach.
"We continue to believe the appropriate response to unfounded concerns about Renewable Identification Number (RIN) prices is to expand ethanol use by providing RVP parity, allowing E15 and higher blends to be sold year round," said Renewable Fuels Association CEO Bob Dinneen.
Growth Energy CEO Emily Skor said, "The President very clearly understands that the path forward is to allow sales of E15 year-round, promote growth, and put more RINs on the market."
American Coalition for Ethanol CEO Brian Jennings was pleased that retailer Charlie Good, featured in ACE's Flex Fuel Forward campaign, was included in the meeting to explain how "RVP relief for E15 would immediately reduce RIN prices" while capping RINs would "destroy demand for renewable fuels and raise pump prices for consumers."