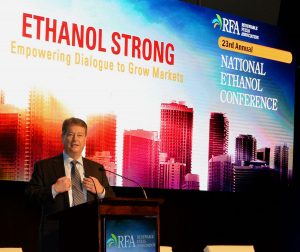 The 2018 National Ethanol Conference (NEC) saw a great turnout of people supporting the renewable fuels industry. Renewable Fuels Association (RFA) Chairman Mick Henderson said exports continue to be a priority, as well as creating parity for E15 in domestic markets. Henderson said being a part of a trade organization like RFA is important when it comes to affecting policy.
"We all need to be on the same wavelength," said Henderson. "If we don't go to Washington with one voice … we're going to get run over."
Henderson said the National Ethanol Conference is a bit like a family reunion. He appreciates the networking opportunities and the time to learn more about opportunities within the industry, both domestic and globally.
Listen to Cindy's interview here: Interview with RFA Chairman Mick Henderson