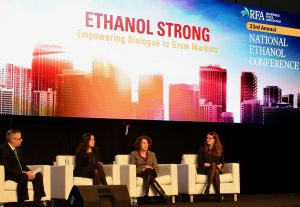 It might be surprising to see electric cars on the agenda at the National Ethanol Conference. But that was the subject of a panel discussion at the recent meeting in San Antonio, Texas.
The panel included Tammy Klein, Future Fuel Strategies; Eva Rigamonti, Society of Independent Gasoline Marketers of America (SIGMA)/Steptoe & Johnson; and Leslie Hayward, Securing America's Future Energy (SAFE). Each panelist had a different perspective when it comes to the future of electric vehicles and the impact that will have on more traditional fuel sources, including ethanol.
"On the coastline, where population centers are and fuel demand is the strongest, we have to be honest with ourselves and figuring out how to align ourselves with the interests of the electric vehicle community, and at the same time, enhance our relationships with the liquid fuels industry, as well. And sometimes that's hard because we've been fighting for so long," said Robert White, Vice President of Industry Relations for the Renewable Fuels Association.
White said some municipalities and even countries around the globe have placed a ban on gasoline or diesel engines as they work towards minimizing the carbon footprint and lowering greenhouse has emissions. But he said there are plenty of challenges remaining for electric vehicles, including range anxiety and an overall shift in the way people have to think about driving.
Listen to Cindy's interview with Robert White here: Interview with Robert White, RFA
Listen to the panel discussion here: Electric Vehicles Panel