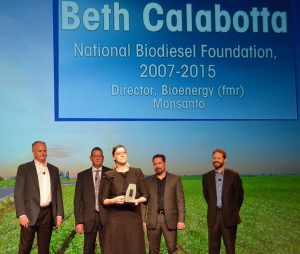 The National Biodiesel Foundation's new Beth Calabotta Sustainability Education Grant offers up to $2,000 to full-time students who are interested in science, research and biodiesel sustainability. Calabotta was director of Monsanto's Bioenergy Development Program, and served on the biodiesel foundation board from 2007-2015. She passed away last March.
"Beth was an advocate for student development and a supporter of biofuel sustainability. She had an unquenchable love for agriculture and life-sciences" said Tom Verry, Executive Director for the National Biodiesel Foundation. "The National Biodiesel Foundation is honored to provide financial support to students following Beth's passion to support advanced biofuels."
To qualify, students must complete an application and if awarded the grant, commit to participate in the Biodiesel Sustainability Workshop and related activities, scheduled for September 26-27 in St. Louis, Missouri. Grant funds may be used for participation with the remaining funds applied toward academic expenses. Other eligibility requirements and full criteria are available on the grant homepage. Applications are due March 31, 2018. The grant winner will be announced April 30.