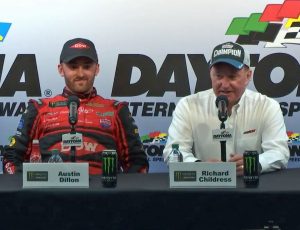 History was made Sunday when the grandson of NASCAR Hall of Fame inductee Richard Childress drove Dale Earnhardt Sr.'s famous No. 3 Chevrolet across the finish line of the Daytona 500, 20 years after Earnhardt won the same race. American Ethanol driver and spokesperson Austin Dillon took the legendary No. 3 Dow/American Ethanol/AAA Chevrolet SS to victory in the Monster Energy NASCAR Cup Series at the Daytona International Speedway.
"It was so awesome to take the 3 car back to victory lane," Dillon said. "This is for Dale Earnhardt Sr. and all those Senior fans." Childress, celebrating with his grandson in Victory Lane, called it a "storybook tale."
"This is an amazing accomplishment and a monumental victory for the No. 3 team," said Growth Energy CEO Emily Skor. "The Daytona 500 is so rich with history, and Richard Childress Racing taking home the checkered flag – in this race – in the iconic No. 3 car is truly a momentous occasion in the sport of NASCAR. Austin Dillon and the entire RCR organization have been phenomenal partners, and they are instrumental in telling the wonderful story of American Ethanol to race fans and drivers across the country and around the world."
NASCAR race cars are all powered by Sunoco Green E15, made with 15 percent American ethanol.