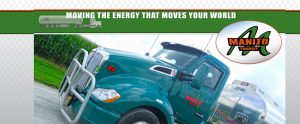 Manito Transit of Bloomington, Illinois has acquired the assets of Lobdell Transportation, Inc., a family-owned trucking company based in Lena, Illinois. The acquisition comes with 21 tractor units, 22 fuel tankers, and eight pressure vessels capable of hauling propane and anhydrous ammonia, as well as a two-bay maintenance shop. Manito Transit now operates 120 trucks, serving customers in 13 states.
"We are excited to build new relationships with external customers in this area, while expanding our footprint to better serve our current customer base," said Brandon Curtis, Manito Transit General Manager. "We remain committed to providing excellent service for our patrons and this acquisition will enhance those efforts."
Manito Transit, distributes fuel oil, biodiesel, soybean oil, ethanol, chemicals, lube oil, fertilizer, and propane for farm, commercial, and industrial use, serving Illinois, Indiana, Wisconsin, Missouri, Iowa, Ohio, Kansas, Colorado, Nebraska, Wyoming, South Dakota, North Dakota, and Minnesota.
I caught up with Brandon yesterday to find out more about this acquisition and what it means for their customers: Interview with Brandon Curtis, Manito Transit