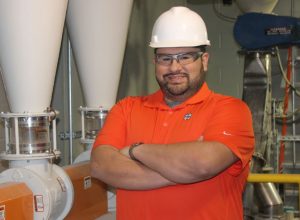 A former steel mill worker pursuing a degree while working full-time in the U.S. ethanol industry is this year's student scholarship winner to attend the Renewable Fuels Association's National Ethanol Conference next week in San Antonio.
Christopher Wense is a full time Ethanol Plant Operations Technician at the National Corn-to-Ethanol Research Center (NCERC) at Southern Illinois University Edwardsville and is working toward a bachelor's degree in Industrial Management and Applied Engineering at Southern Illinois University in Carbondale, Ill.
"In April 2015, I was laid off from U.S. Steel in Granite City, Illinois," said Wense. "Shortly thereafter, I returned to college, and after researching the growth potential of several industries, I decided to focus on the renewable fuels sector. I see endless growth opportunities for the U.S. ethanol sector, and providing people just like me with rewarding, long-term careers." Read his story in this op-ed from the St. Louis Post-Dispatch.
This is the ninth year for the scholarship program by RFA and the Renewable Fuels Foundation awarding students enrolled in higher education with complimentary registration at the conference, giving scholarship recipients the chance to connect with hundreds of leaders, policymakers, and experts associated with the renewable fuel industry.