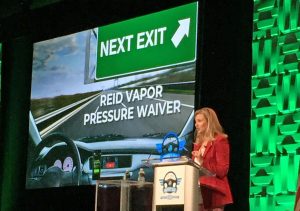 Growth Energy is holding its ninth annual Executive Leadership Conference (ELC) this week in Boca Raton, Florida with more than 300 ethanol leaders and supporters in attendance.
CEO Emily Skor kicked off the event with her report to the membership. "This past year, we saw what can be accomplished when we refuse to let others steer the debate away from our goals. … We still have a lot of work to do, but our champions are mobilized and positioned to win," said Skor. "This is our opportunity for a real conversation about how we are expanding domestic and foreign markets, forging new relationships with retailers, and shaping critical policies within the Trump administration and Congress."
With the theme "In the Driver's Seat," the ELC is featuring a host of panel discussions exploring topics including the state of U.S. agriculture, the global marketplace, domestic and global E15 expansion, the political landscape, and Growth Energy's efforts to reach consumers and key influencers through its NASCAR partnership and emerging mechanic education initiative.