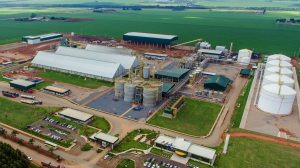 Summit Agricultural Group has announced a $100 million expansion of FS Bioenergia, its corn ethanol production facility in Brazil. The expansion of the plant is forecast for completion in the first quarter of 2019 and will more than double annual corn ethanol production from 60 million gallons to 140 million gallons.
With this expansion, FS Bioenergia will annually process over 50 million bushels of corn and produce more than 14,000 tons of corn oil and 400,000 tons of valuable feed rations for Brazil's growing livestock industry.
"This is a significant step for FS Bioenergia, but it's even more important for the growth of corn ethanol production in Brazil," said Bruce Rastetter, founder and CEO of Summit Agricultural Group. "When we began this project several years ago, we were confident of the opportunities in Brazilian renewables. Today, we're more convinced than ever of the potential for corn ethanol in Mato Grosso."
The FS Bioenergia expansion will utilize process technologies from ICM, Inc. of Colwich, Kansas, as it did for the original plant.