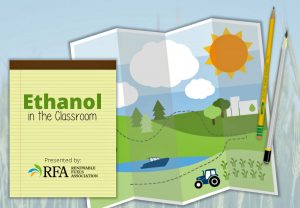 The Renewable Fuels Association has developed a new on-line educational program designed to help tomorrow's consumers get to know ethanol.
The new "Ethanol in the Classroom" course provides a fun and interactive way for students to learn about the renewable fuel. The e-Learning program is broken down into different grade levels and after selecting the appropriate level, students choose a vehicle that runs on ethanol and navigate through four stops: what is ethanol; ethanol's environmental benefits; ethanol's economic impact; and the overall use of ethanol. At each stop, students learn about ethanol and complete activities to see how much they have learned. Students earn badges after completing each stop.
"We wanted to create a fun platform for children and young adults to learn about ethanol's numerous benefits," said RFA Vice President of Industry Relations Robert White. "They are tomorrow's drivers. Education is key and we want to make sure everyone, young and old, knows about the environmental, economic and energy security benefits of this renewable fuel."
To view this new training program, visit: http://www.ethanolrfa.org/ethanol-in-the-classroom/.