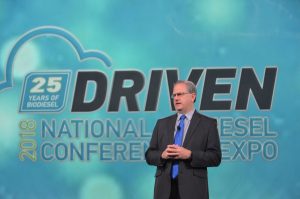 The National Biodiesel Conference & Expo opened today at the Fort Worth Convention Center with the theme of "Driven" to celebrate to 25th anniversary of the National Biodiesel Board.
"For the visionaries who launched what would become the National Biodiesel Board in 1992, we want to say 'thank you,'" said NBB CEO Donnell Rehagan. "We look forward to taking this opportunity to reflect on those first 25 years, but we are also excited to launch into the next era of growth for America's Advanced Biofuel."
Following a University of Missouri study that demonstrated biodiesel had potential as a diesel fuel replacement, the Missouri Soybean Merchandising Council created the National SoyDiesel Development Board in 1992. Sensing the opportunity to utilize the vast surplus of soybean oil collected each year, while also expanding energy security and environmental benefits, other state soybean associations quickly joined the effort. The new association changed its name to the National Biodiesel Board in 1994 to reflect the diversity of fats and oils that can be made into biodiesel.
"Biodiesel is an American success story," said Rehagen. "We have overcome countless challenges, and we will undoubtedly face many more as we continue to grow the industry. But for everyone who has pulled together for the past 25 years to make our success a reality, this conference is a great time to celebrate."
Rehagen took to the Mainstage at Conference Central to welcome attendees and kick off the conference by talking about Biodiesel's Bright Lights and Big Opportunities.
Listen here: NBB CEO Donnell Rehagen opens #NBB18
2018 National Biodiesel Conference