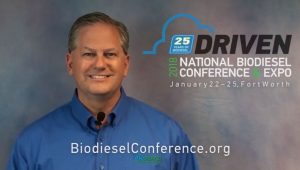 The biodiesel industry is heading to Fort Worth January 22 – 25 for the silver anniversary of the National Biodiesel Conference & Expo.
"Every conference we've sponsored has been an exciting event for our industry," said National Biodiesel Board (NBB) CEO Donnell Rehagan. "But this one is obviously going to be special as we take the opportunity to not only recognize the milestones we've passed over the last two-and-half decades, we'll also look forward to meeting the challenges ahead as the industry continues to grow and plays an even greater role in America's ever more critical energy sector."
One of this year's highlights will be a session with the filmmakers who premiered "Hot Grease" at the DOC NYC film festival before its debut on the Discovery Channel last November. The feature length documentary tells the story of biodiesel's rise and the industry fight for survival in the face of numerous public policy challenges.
The public is also invited to the conference to explore the event's Conference Central, where they can learn all about how biodiesel is made from an increasingly diverse mix of resources such as recycled cooking oil, soybean oil and animal fats, and to participate in a "ride-and-drive" with vehicles provided by area dealers and equipped with the latest diesel engines. A Texas driver's license is required for local residents to attend free of charge.
Learn more in this interview: Interview with NBB CEO Donnell Rehagen