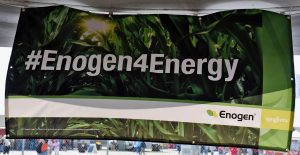 Syngenta has finalized an agreement for CHS Inc. to use Enogen® corn enzyme technology at its 130-million-gallon ethanol plant in Rochelle, Illinois.
Enogen corn will provide the CHS Rochelle facility with an industry-leading enzyme for enhanced ethanol production while also supporting local growers and the community. Several million dollars in premiums are expected to be paid annually to growers raising Enogen corn, locally, for the CHS plant in Rochelle.
"CHS is focused on helping its farmer-owners grow," said Mike Van Houten, CHS Rochelle facility manager. "The Enogen program provides benefits for our plant, but is also a big win for our local community with the premium to be paid on every bushel of Enogen corn brought to us."
CHS ethanol plants manufacture the alcohol-based renewable fuel via an advanced fermenting and distilling process that efficiently converts corn into simple sugars. The resulting ethanol product is primarily used as a fuel that is commonly blended with gasoline to increase octane and improve emissions quality. The Rochelle plant is an 81-acre, dry mill corn-based operation and was acquired by CHS in June 2014.
CHS is an ethanol producer, marketer and trader and one of the nation's largest suppliers of ethanol-enhanced gasoline. Enogen corn enzyme technology is an in-seed innovation available exclusively from Syngenta that features the first biotech corn output trait designed specifically to enhance ethanol production.