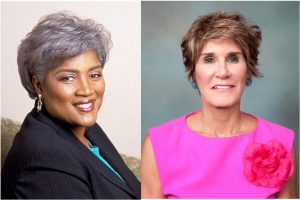 Former Presidential Advisor Mary Matalin and veteran Democratic Political Strategist Donna Brazile will be at the 23rd annual National Ethanol Conference in San Antonio as the featured luncheon speakers on Tuesday, Feb. 13, for "A Candid Conversation about Washington Politics."
Matalin served under President Ronald Reagan, made her mark as George H.W. Bush's campaign director and was most recently assistant to President George W. Bush, and as assistant and counselor to Vice President Dick Cheney, making her the first White House official to hold that double title. Today, Matalin is a frequent commentator on both radio and TV, and is the co-author of "All's Fair: Love, War and Running for President," a national bestseller written with her husband, James Carville.
Brazile is the former Chair of the Democratic National Committee and fellow at Harvard's Kennedy School Shorenstein Center on Media, Politics and Public Policy. She has worked on every major presidential campaign since 1976 and in 2000, became the first African American to serve as campaign manager for former Vice President Al Gore. Brazile is the founder and director of Brazile & Associates LLC, a general consulting, grassroots advocacy, and training firm based in Washington, DC. She is also an adjunct faculty member at Georgetown University.
NEC2018 will be held Feb. 12-14, 2018, in San Antonio. View the complete agenda here.