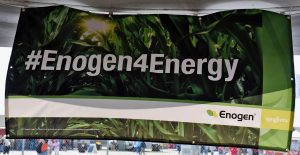 Syngenta and Green Plains Inc. have announced a partnership to expand the use of Enogen® corn enzyme technology across the company's entire 1.5 billion gallon production platform.
"We have been using Enogen corn at a number of our locations for the past several years and have noted significant benefits, including enhanced yield and reduced energy costs," said Green Plains President and CEO Todd Becker. "Combining our focus to buy more corn directly from farmers and purchasing alpha amylase locally, in the form of high-quality grain for all of our plants, we believe Enogen will create value for our shareholders, growers and the communities where we do business."
Green Plains is one of the largest owners of ethanol production assets in the world, purchasing more than 500 million bushels of corn each year. Using Enogen corn as a portion of the feedstock enables alpha amylase to be delivered directly in the grain, eliminating the need to add a liquid form of the enzyme and significantly reducing the viscosity of the corn mash.
"Enogen is rapidly gaining popularity because of the value it delivers to ethanol producers and the opportunity it provides corn growers to be enzyme suppliers for their local ethanol plants," said Jeff Oestmann, head, Bio-fuels Operations – Enogen at Syngenta. "Enogen corn enzyme technology creates increased profit potential for ethanol producers and corn growers while adding significant incremental value at the local level for communities that rely on their ethanol plant's success."
Enogen corn enzyme technology is an in-seed innovation available exclusively from Syngenta and features the first biotech corn output trait designed specifically to enhance ethanol production.