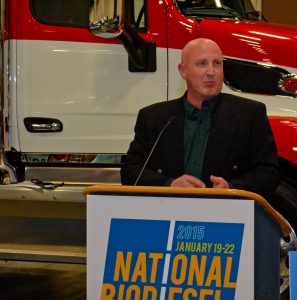 National Biodiesel Board (NBB) technical director Scott Fenwick was recently named the next chairman of the ASTM Committee D02 on Petroleum Products, Liquid Fuels, and Lubricants.
"I am honored to serve as chair of this important ASTM committee that is dedicated to ensuring high quality standards for petroleum products, fuels and lubricants, including biodiesel," said Fenwick. "I would like to thank Randy Jennings, with the State of Tennessee, for his leadership, commitment, and guidance as the outgoing chair."
Fenwick was elected in October, and officially announced as chair at the recent DO2 committee meetings in Houston, Texas last week. His term will begin January 1, 2018. According to ASTM, Committee D02 on Petroleum Products and Lubricants was formed in 1904. Approximately 1,000 members attend the five days of technical meetings twice a year. The committee, with a current membership of approximately 2,650 global industry professionals and experts, has jurisdiction over nearly 850 standards. These standards have, and continue to play, a preeminent role in all aspects relating to the standardization quality of fuels and lubricants.