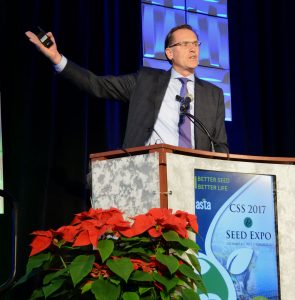 Even if volume obligations for biofuels under the Renewable Fuel Standard are mostly stagnant or lower in 2018, agricultural economist Dan Basse of AgResource Company is bullish on growth in the sector next year.
One reason is lower prices for corn, which is helping expand ethanol production plans. The other is the restriction of biodiesel imports from Argentina and Indonesia, countries which have been slapped with countervailing duties by the Commerce Department for dumping low priced subsidized biodiesel on the U.S. market. "The duties are 51 and 72 percent…we've got two million tons of biodiesel that will be restricted from coming in," said Basse. "That means that our balance sheet on soybean oil without significant imports is going to get really tight with time."
On the same day that Basse was speaking last week to the American Seed Trade Association, the International Trade Commission (ITC) voted 4-0 in favor of the National Biodiesel Board (NBB) Fair Trade Coalition's position that the industry has suffered because of unfairly subsidized imports of biodiesel from Argentina and Indonesia. That action, coupled with last month's final countervailing duties determination by the Commerce Department, paves the way for final countervailing duty orders by the end of December.
Learn more in this interview: Interview with Dan Basse, AgResource
Basse's comments about biofuels during his talk start at 18:00 – Dan Basse, AgResource, presentation