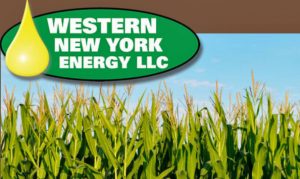 It was ten years ago this month that Western New York Energy (WNYE) began production at its 62-million gallon per year ethanol plant as the first ethanol plant in New York State.
The ethanol plant uses more than 20 million bushels of locally grown corn every year while also producing more than 160,000 tons per year of high-quality distillers grain. "For the past 10 years, we have been proud to partner with New York farmers to produce a clean, renewable and domestically produced fuel," said WNYE President and CEO Tim Winters. "We look forward to serving our communities and the U.S. ethanol industry for many years to come, helping to provide consumers with a choice at the pump."
WNYE is a proud member of the Renewable Fuels Association and RFA CEO Bob Dinneen says they are proud of the plant's success. "The plant was born from the vision of John Sawyer and his son, Mike," said Dinneen. "Now, ten years later, the company continues to provide significant economic growth for the community and consumers, driven by the steady hand of Tim Winters and a Board of Directors resolved to maintain its tradition of excellence. On behalf of the U.S. ethanol industry, I pass along my heartfelt congratulations and wishes for many more years to come," Dinneen added.