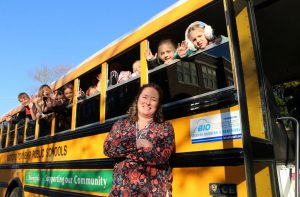 When it comes to using cleaner burning biodiesel in school buses, Medford Township Public Schools in New Jersey goes to the head of the class, as they celebrate 20 years this month, making Medford the nation's longest continuous user of biodiesel in a student transportation fleet.
The school district's use of biodiesel has eliminated more than 123,376 pounds of smog-forming emissions, 2,408 pounds of diesel particulate matter and reduced its fleet operation costs by over $170,000.
"Medford's 20-year commitment to powering its school bus fleet with biodiesel is benefiting a new generation of students by reducing harmful emissions and contributing to cleaner air," said National Biodiesel Board CEO Donnell Rehagen. "Some of the children who rode the bus back in 1997 are now parents themselves whose children will enjoy the same air quality benefits in Medford today."
"Utilizing biodiesel fuel in our school bus fleet is the cornerstone of our district's overall commitment to sustainability," said Medford Schools Superintendent Joseph Del Rossi. "We are proud to be a lead district for this initiative, especially serving as a positive role model for our school community and the Township of Medford."
Medford filled its first school bus with B20 on November 17, 1997. When that bus was retired in 2011, it had logged 190,000 miles without any major engine work and still had its original fuel injectors and pump.