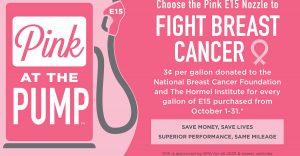 Drivers across six states last month helped raise a record $11,500 for breast cancer awareness and research as part of the Iowa Renewable Fuels Association's (IRFA) second-annual Pink at the Pump™ campaign.
"It is exciting to see how much Pink at the Pump™ has grown in only its second year," said IRFA Managing Director Lucy Norton. "We've doubled the number of retailers and the amount of funds raised from 2016. Drivers are really catching on to what a great option E15 is for all 2001 and newer vehicles because it burns cleaner, reduces the amount of cancer-causing chemicals in the air, and is higher octane."
Sixty-four E15 retail stations across Iowa, Missouri, Illinois, Arkansas, Texas, and Virginia donated three cents of every gallon of E15 sold from Oct. 1 through Oct. 31 to National Breast Cancer Foundation (NBCF) and The Hormel Institute. Participating E15 locations featured pink E15 nozzle guards and other pink point-of-sale materials as part of the campaign, sponsored by IRFA and the Iowa Corn Promotion Board.