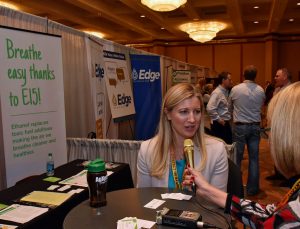 The Growth Energy Driving Ethanol podcast this week comes from the National Association of Farm Broadcasting 74th annual convention in Kansas City last week.
It was the first time that Growth Energy CEO Emily Skor had the opportunity to experience the one and only NAFB Trade Talk, a six-hour interview marathon between reporters and agribusiness company and organization representatives about industry news. There is probably not another event like it in any industry.
Skor spoke with dozens of broadcasters at the event, commenting on a variety of issues, including the hold up of Bill Northey's nomination, the upcoming release of EPA's final RVO numbers for next year, and China's removal of the 11% VAT tax on DDGs imports.
Listen to the podcast here: Growth Energy Podcast 11-13-17
Subscribe to the Driving Ethanol podcast
[content_band padding_top="8px" padding_bottom="8px" style="text-align:center;color: #333;" bg_color="#BEC0B0″ bg_pattern="http://agwired.com/wp-content/uploads/2014/04/AW-sponsor-bg.png" border="all" inner_container="true"] Coverage of the NAFB Convention is sponsored by


[/content_band]