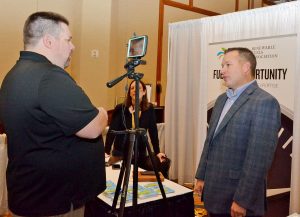 The Renewable Fuels Association once again attended the annual meeting of the National Association of Farm Broadcasting (NAFB) to do interviews and support the media that helps spread the good news about agriculture and renewable fuels.
Some very good news right now is that ethanol is helping consumers save more money at the pump than ever before. "It's probably the best value proposition we've ever seen in ethanol," said RFA Vice President of Industry Relations Robert White. "E85 today is the lower cost fuel per mile." On average nationwide, flex fuel vehicle drivers who fill up with 20 gallons of E85 are saving $14 per tank over drivers who fill up with E10.
The national price spread between regular unleaded and E85 is currently at 33% for the month of November and in many locations – including California, Ohio, Iowa, Kentucky, Indiana and Illinois – E85 is at least $1 per gallon cheaper than E10.
In this interview, White explains how the current price situation is also the result of stronger Renewable Identification Numbers (RINs) credit values, and he talks about the political "saber-rattling" going on in DC impacting the approval of critical USDA positions. Interview with Robert White, RFA