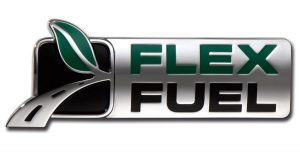 There are more than 22 million flex fuel vehicles (FFVs) on the road today, but many motorists may be unaware that they can use up to 85 percent ethanol blended fuel (E85). The Renewable Fuels Association (RFA) has developed a new brochure that compiles all of the FFV models available in the current model year (MY2018), as well as previous years going back as far as MY1998.
For MY2018, General Motors continues to lead the pack with 13 FFV model offerings, followed by Ford/Lincoln/Mercury with 11 FFV models available and FCA (Chrysler/Dodge/Jeep) with seven models. Additionally, automakers Audi and Mercedes-Benz each offer three, while Toyota offers two. All of the data used in the brochure was collected directly from the automakers.
"This new brochure aims to raise consumer awareness about what vehicles are capable of running on ethanol flex fuels," said RFA Vice President of Industry Relations Robert White. "We want consumers to understand what fuel they can use in their vehicles, and how to find that fuel."
Consumers can locate E85 stations to fuel their FFVs at E85prices.com, and also view what pricing experiences other users have reported.