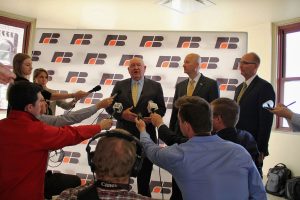 Agriculture Secretary Sonny Perdue traveled to Omaha yesterday to swear-in new Under Secretary for Marketing and Regulatory Programs Greg Ibach in his home state.
"Greg Ibach will bring experience and integrity to his new role at USDA, and carries with him the knowledge he's gained in the dozen years he has served as Nebraska's Director of Agriculture," said Secretary Perdue.
During a press conference, Perdue was asked about the recent letter from EPA Administrator Scott Pruitt to biofuel-supporting senators regarding proposed changes in the Renewable Fuel Standard (RFS). "We have had discussions with Administrator Pruitt over the RFS and told him how important it was for our producers," said Perdue. "He understood the president's commitment, which the president reaffirmed to him, and I think he made the right decision."
Secretary Perdue comments on Pruitt RFS decision
During the swearing-in ceremony, Perdue expressed his disappointment that Bill Northey was not also being sworn in at the same time, after his nomination was put on hold last week by Sen. Ted Cruz (R-TX) in an apparent attempt at retaliating against the administration for bowing to pressure from ethanol states like Iowa on changes to the RFS. "It's a sad note when one senator put a hold on a nominee not based on anything that has to do with that nominee," said Perdue.
Secretary Perdue swear-in opening comments