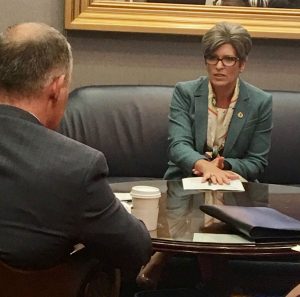 Senator Joni Ernst (R-IA) met with Environmental Protection Agency (EPA) Administrator Scott Pruitt Tuesday to express her concerns over the agency's recent action to potentially lower biodiesel volumes in the Renewable Fuel Standard (RFS) for 2018 and 2019.
After the meeting, Sen. Ernst said that while Pruitt has "insisted that the recent actions taken by the EPA are simply to receive additional input on the RFS from stakeholders, it is evident that the 'stakeholders' he refers to are not the farmers and manufacturers" of biodiesel.
"Our meeting today was another clear demonstration that biofuel-producing states will never stop fighting to protect the RFS. Administrator Pruitt again claimed today that he will not do anything to undermine the program. However, we have heard this before. We now need to see it. I will continue to work with the EPA, but they must prove to the agricultural community who put their faith in this administration that they will fulfill their promise to maintain the letter and the spirit of the RFS. We will not accept anything less."
Iowa Senator Chuck Grassley also met with Pruitt on Tuesday with the same message and today Governor Kim Reynolds is joining the Iowa Renewable Fuels Association, Iowa Biodiesel Board, and Iowa farmers to discuss the threat recent EPA proposals pose to the future of the biofuels industry. The event will be webcast live from Two Rivers Cooperative in Pella at 1:30 central time.