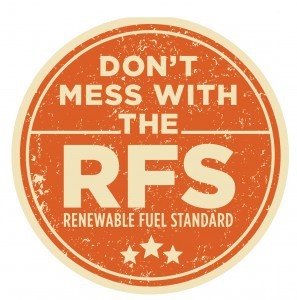 On Monday, four governors wrote to President Trump, and 34 senators sent a letter to EPA Administrator Scott Pruitt, both expressing concerns about proposed changes to the Renewable Fuel Standard (RFS).
Governors Kim Reynolds of Iowa, Dennis Daugaard of South Dakota, Eric Greitens of Missouri and Sam Brownback of Kansas urged the president to keep his promises to rural America to support the RFS.
"The renewable fuels industry in our states—and others—is poised to grow if the EPA sends positive and consistent market signals through increases in the required volumes. That will enhance America's energy security, value-added agriculture and rural economic prosperity. We urge you to continue to fulfill your promises, to continue your support for all biofuels under the RFS and to continue to put America first," the governors write.
"We commend the governors for holding our federal government accountable to the law, and we join them in calling on the Administration to ensure that the EPA stays true to the president's promises for a strong RFS," said Growth Energy CEO Emily Skor in a statement.
The senators, led by Roy Blunt (R-Mo.), Heidi Heitkamp (D-N.D.), Chuck Grassley (R-Iowa) and Patty Murray (D-Wash.), specifically addressed proposed volume levels of biomass-based diesel and advanced biofuel.
"Reducing volumes—and especially those [Renewable Volume Obligations] RVOs that were previously finalized—is disruptive, unprecedented and very troubling," the senators write. "These volumes do not meet actual biodiesel production capacity in the United States, and could have a negative impact on jobs and economies in rural communities across the nation."
The National Biodiesel Board (NBB) agrees. "EPA should seek comment on factors that warrant HIGHER advanced biofuel and biomass-based diesel volumes in order to achieve Congress's goals of diversifying our fuel supply, supporting rural jobs and enhancing U.S. energy security. Instead, the recent request for comment from EPA flaunts these objectives—with the potential to eradicate jobs and bankrupt farmers," said NBB COO Doug Whitehead.
EPA recently released a request for additional comments on reducing previously finalized volumes under the RFS program and on using waiver authorities to further reduce biodiesel volumes.