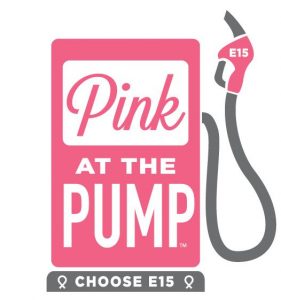 Missouri is now part of the Pink at the Pump™ campaign against breast cancer as Hometown Fuel across the Iowa border in Mercer joined the cause last week. The annual campaign is now active in six states – Iowa, Missouri, Illinois, Arkansas, Texas, and Virginia.
Pink at the Pump™ is a partnership between Iowa Renewable Fuels Association (IRFA), Iowa Corn Promotion Board, National Breast Cancer Foundation, The Hormel Institute, and fuel retailers to raise money for breast cancer research, early detection, and support services and increase consumer awareness of the benefits of E15. At participating retail stations, three cents of every gallon of E15 sold during the month of October will be donated to The Hormel Institute and National Breast Cancer Foundation.
"Participating in Pink at the Pump™ is a great way for motorists to learn about all the many environmental and economic benefits of E15," said IRFA Managing Director Lucy Norton. "E15 reduces cancer-causing chemicals and greenhouse gas emissions, making it truly the cleanest fuel choice on the market for all 2001 and newer vehicles. It is also a smart buy at a lower cost with a higher octane rating."
To find a participating Pink at the Pump™ station and learn more about the promotion, click here.