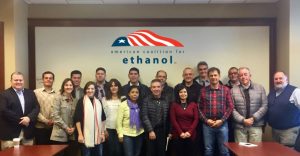 A trade team from Latin America is on an ethanol tour this week sponsored by the U.S. Grains Council (USGC), which included a visit to the Sioux Falls, South Dakota office of the American Coalition for Ethanol (ACE) Monday morning.
The schedule for the group included several other stops in South Dakota, visiting an ethanol plant, a livestock farm to see the ethanol co-product distillers dried grains (DDGs) being used in feed rations, a farm where they deploy practices to produce zero-carbon corn, and a retail fuel station that markets higher ethanol blends.
ACE Senior Vice President Ron Lamberty shared his ethanol market expertise with the tour group which includes representatives from Panama, Colombia, Costa Rica, Peru, Paraguay and Uruguay.