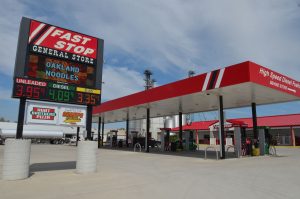 FS FAST STOP locations are among the first to become registered TOP TIER™ Diesel Fuel sites under a program developed by leading diesel equipment manufacturers who recognized the benefits of additized diesel fuel in their engines.
The TOP TIER program, originally launched in 2004, focused on gasoline standards before introducing a diesel fuel standard this September. FAST STOP locations featuring Dieselex® Gold are among the first retailers to earn the new certification.
"We strive to provide the best fuel standard in the industry by not only meeting, but exceeding, the new TOP TIER Diesel Fuel standards," said Curt Dunafin, GROWMARK energy services manager. "Additional performance benefits of Dieslex Gold include: cleaning up dirty engines, controlling moisture, faster starts, lower emissions, and extending storage stability."
In this interview, Dunafin talks about why quality diesel fuel is important, especially with new engine efficiencies.