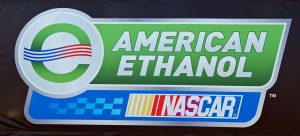 Corn growers from around the country are heading to Alabama this weekend to promote American Ethanol at "The Big One" in Talladega.
The National Corn Growers Association (NCGA) is partnering with corn farmers in Alabama, Kansas, Iowa and Michigan – to promote E15 American Ethanol all weekend in the popular Fan Zone exhibit area, nearby campgrounds, on-track signage, the pavement in pit road and the in-house video system.
"Corn Growers partnered with Growth Energy under the American Ethanol banner to spread the positive benefits of E15 and higher ethanol blends. Since 2011 drivers on all three of NASCAR's racing series have completed more than 10-million miles on E15," said Don Glenn, NCGA board member and farmer from Hillsboro, Alabama. "And E15 has worked seamlessly in these high performance engines. Today, a growing number of consumers are seeking this American-made fuel at the pump because they have seen how well it works for the world's best drivers."
Corn farmers will hand out American Ethanol starter flags as fans arrive and those who fly their green flag over the race weekend will receive promotional items, including E15 T-shirts to continue promoting ethanol long after the roar of the race has concluded. Fans will also have the opportunity Saturday morning, October 14, to meet American Ethanol No. 3 Chevy driver Austin Dillon at the exhibit in the Fan Zone.
American Ethanol is also the sponsor of the Saturday night infield concert featuring country star Colt Ford.