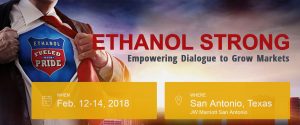 Registration is now open for the Renewable Fuels Association's 23rd annual National Ethanol Conference (NEC), to be held Feb. 12–14, 2018 in San Antonio.
The theme for the conference in 2018 will be "Ethanol Strong: Empowering Dialogue to Grow Markets."
"RFA's NEC is the preeminent and most widely attended policy conference for the ethanol industry," said RFA Board Chairman Mick Henderson, general manager of Commonwealth Agri-Energy LLC in Hopkinsville, Kentucky. "It's an excellent opportunity to network, hear great content from top experts and learn the latest about issues affecting our industry. The 2018 NEC will be a can't miss event."
Also, NEC has once again been selected to be a participant in the U.S. Department of Commerce's International Buyer Program (IBP). International trade specialists from the agency will be onsite at the NEC to provide export counseling, matchmaking services, market analysis and more.
For more information, visit NationalEthanolConference.com and make sure to follow NEC on Twitter, at @EthanolConf.