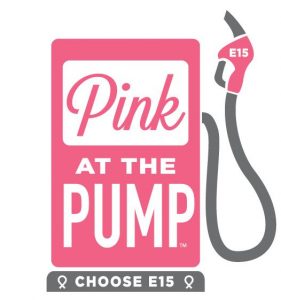 Over 30 Iowa E15 retailers are pretty in pink this month, participating in the 2nd annual Pink at the Pump™ campaign to raise funds for breast cancer support services and research while increasing consumer awareness about E15.
"As a breast cancer survivor, I encourage everyone to make a difference in someone's life by choosing to use E15 and reduce the cancer-causing pollutants in our environment – it's easy, it's simple, it can save the life of someone you love," said Kathy Buckman Gibson, breast cancer survivor and President of Buckman Laboratories International, which provides biofuels plants with technologies and tools to reduce energy and water use.
Participating E15 retailers will donate three cents of every gallon of E15 sold from October 1 through October 31 to National Breast Cancer Foundation (NBCF) and The Hormel Institute.
"During Breast Cancer Awareness Month we often look for ways to help stop this terrible disease," said Iowa Renewable Fuels Association (IRFA) Managing Director Lucy Norton. "By choosing E15 consumers can fight breast cancer right at the gas pump. Ethanol is the world's cleanest source of fuel octane. More clean ethanol means less toxic chemicals are needed to boost octane. And what's better, E15 has an 88 octane rating and is typically priced five to 10 cents less than 87-octane E10."
Pink at the Pump™ is a joint effort between IRFA and the Iowa Corn Promotion Board in partnership with National Breast Cancer Foundation and The Hormel Institute. For the entire month of October, participating locations will feature pink nozzle guards for E15, pink promotional t-shirts for staff, and many other pink point-of-sale materials.