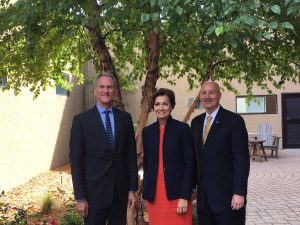 There was a big focus on biofuels at the 15th annual Tri-State Governors' Conference in Sioux City, Iowa this week. The governors of Iowa, Nebraska and South Dakota get together for this biannual event to discuss the issues impacting their respective states and the Siouxland region, and since the three states together produce almost half of the nation's ethanol, that is definitely a big priority for them.
Each of the governors shared initiatives their states are implementing to support the use of ethanol-blended fuels during the conference. Iowa Gov. Kim Reynolds mentioned a test program for E30 in the Iowa Energy Plan. Nebraska Gov. Pete Ricketts, who recently keynoted ACE's 30th annual conference in Omaha, expressed his optimism in working with the administration and the opportunity the biofuels industry possesses to further grow rural economies. South Dakota Gov. Dennis Daugaard mentioned a state bid to bring E30 into the main state fleet fuel locations in Pierre, Brookings and Sioux Falls. He also mentioned that a greenfield ethanol plant, Ringneck Energy, is being constructed in Onida, South Dakota.
Also on the conference program was American Coalition for Ethanol member Pam Miller of Siouxland Ethanol, who thanked the governors for their ethanol industry advocacy through their involvement on the Governors' Biofuels Coalition and asked for their consideration of a plan to lead a Midwestern-focused E30 demonstration program in which states would receive a waiver from the EPA, which has already been requested, to allow E30 use in non-flex fuel vehicles.