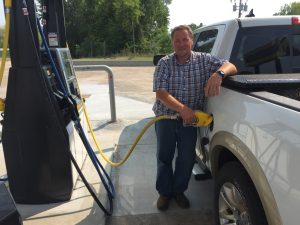 American Coalition for Ethanol (ACE) board member Scott McPheeters of KAPPA Ethanol was first in line to fill up this week at the new Blue Heron Renewable Flex Fuel Plaza on Interstate 80 in Nebraska.
"There was a need and an opportunity to provide more ethanol blends at a great price in central Nebraska," said McPheeters. "Blue Heron is a great location to attract business from the more than 15,000 vehicles a day traveling on Interstate 80."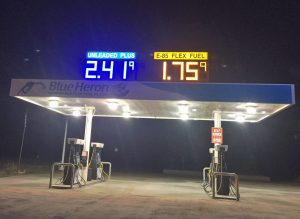 Blue Heron has installed Wayne Helix dispensers and offers E10, E15, E30, E40 and E85. "Based on the early reports, the station's overall volume is triple what it was before the upgrade and blends above 10 percent ethanol make up well over half of their volume," said ACE Senior Vice President Ron Lamberty who has documented the station's upgrade on flexfuelforward.com to demonstrate how privately-owned, single-store owners can add E15 and flex fuels affordably and profitably.
The station is hosting a grand opening this morning with a ribbon cutting followed by an E85 fuel promotion. The station received state and federal grant funding coordinated by Access Ethanol Nebraska, as well as support from ethanol producers in central Nebraska. McPheeters' plant KAAPA Ethanol in Minden sponsored fuel canopy and billboard upgrades for the station, and Nebraska Corn Processing and Anew Fuel Services provided ethanol at a discounted price for the grand opening.