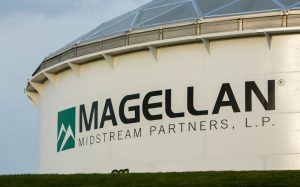 Magellan Midstream Partners fuel pipeline and storage company is now offering pre-blended E15 at many terminals across the U.S., including all Magellan terminals that service Iowa.
"This announcement from Magellan is game-changing," said Iowa Renewable Fuels Association (IRFA) Executive Director Monte Shaw. "It is now possible for most retailers across the state to replace a low-demand product with E15 without investing in major infrastructure upgrades."
"While IRFA remains very supportive of blender pumps because they provide consumers access to even more ethanol blend options, I expect Magellan's decision to offer pre-blended E15 will rapidly increase the number of Iowa retailers who decide to offer this exciting new fuel," Shaw added.
Without access to pre-blended E15, retailers have to install blender pumps to blend the fuel onsite. Nearly all underground storage tanks are certified to store E15 and all fuel dispensers in Iowa are approved to dispense E15. Therefore, the ability to purchase pre-blended E15 at the terminal means most Iowa retailers could offer E15 through their existing station infrastructure with little or no equipment upgrades.