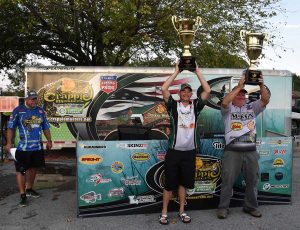 The recent 2017 Crappie Masters National Championship, sponsored in part by the Renewable Fuels Association, American Ethanol, and Bass Pro Shops, saw Missouri fishermen Paul Alpers and Phillip Haynes finishing on top. The partners fought unseasonably hot weather and dropping river levels as they brought in a two-day total weight of 21.89 pounds. They use ethanol in their vehicles and in their boats, and shared an appreciation for the quality and the value of the fuel.
"Anything you can save, especially on the fuel, and I appreciate everything they're doing to make it cheaper on the folks," says Alpers.
This year's champions shared their enthusiasm for the sport and their confidence in ethanol after winning the recent competition.
Listen to Chuck's interview with Paul Alpers and Phillip Haynes here: Paul Alpers & Phillip Haynes, 2017 Crappie Masters Tournament National Champions