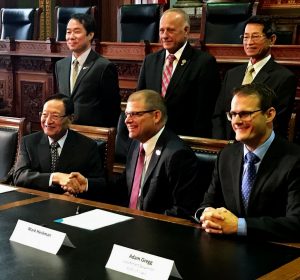 A trade team from Taiwan visited Iowa last week and signed letters of intent to purchase $2.8 billion worth of U.S. grains over the next two years. The deal includes corn, soybeans, wheat, and the ethanol co-product distillers dried grain with solubles (DDGS).
Iowa Corn Promotion Board (ICPB) Director Mark Heckman signed the letter of intent between ICPB and the Taiwan Feed Industry Association, outlining the intention by the Taiwanese to purchase 5.0 million metric tons (197 million bushels) of corn and 0.5 million metric tons of DDGS between 2018 and 2019, at an estimated value of $1.05 billion.
"Taiwan is an important buyer of U.S. corn and co-products," said Heckman. "Trade matters to our economy and to U.S. farmers who need access to global markets to maintain and expand exports of corn in all forms."
Congressman Steve King (R-IA) was among those who joined Heckman at the signing in Des Moines. Last month, King met with top Taiwanese officials to discuss agreements to purchase more agricultural goods from Iowa and the rest of the country. "Taiwan's decision to purchase approximately $2.8 billion of U.S. grains is good news, particularly for Iowa's corn and soybean producers," said King.