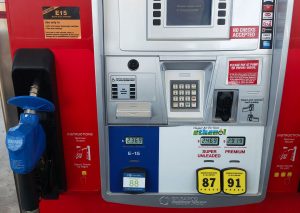 With the addition of 10 new locations in the past month, 15% ethanol blended fuel is now available at 135 stations across Iowa.
Kwik Star, a retailer based out of Wisconsin, added E15 to seven Iowa stations. Over the course of the next few years, Kwik Trip – which operates in Iowa under the name "Kwik Star" – intends to add E15 to almost all of its 550 locations in Wisconsin, Minnesota, and Iowa.
Iowa-based Kum & Go added E15 to a location in Ames. Kum & Go is actively adding the fuel to all new locations. Motorists can now purchase E15 from 58 Kum & Go stores across Iowa.
The last two locations – Super Mart in Oelwein and Best Food Mart in Des Moines – are independently owned. In addition to E15, Super Mart offers E10 and Best Food Mart offers E85.
"More and more retailers are recognizing that E15 is a lower-cost, higher-performing option that customers want," said Iowa Renewable Fuels Association (IRFA) Executive Director Monte Shaw. "The fuel is now available in more locations than ever before. It is only a matter of time before it is the number one fuel choice for all motorists across the state."
Click here for list of all new Iowa E15 locations from IRFA.