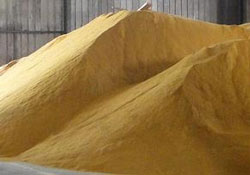 The government of Vietnam has notified the U.S. that it will resume imports of American distillers dried grains (DDGS), which were suspended in December 2016 after reported detections of quarantine pests in U.S. shipments, according to USDA.
Prior to the suspension, Vietnam was the third-largest market for U.S. DDGS, with exports valued at more than $230 million in 2016. The resolution of this issue also opens the way for corn and wheat shipments, which were restricted due to previous treatment requirements.
The DDGS ban is one of several agricultural and other priority issues raised in connection with Vietnamese Prime Minister Nguyen Xuan Phuc's visit to Washington in May 2017, where he met with President Trump as well as Secretary of Agriculture Sonny Perdue and U.S. Trade Representative Robert Lighthizer. Following the series of meetings, the two governments released a joint statement pledging to work closely together to resolve the DDGS issue.
"The suspension of DDGS imports in December 2016 had a dramatic impact on the market, leading to lower DDGS prices and pressuring ethanol margins," said Renewable Fuels Association vice president Geoff Cooper. "We are confident that DDGS exports will immediately resume to Vietnam, providing poultry and livestock feeders in that country with a high quality, low-cost source of protein and energy."
According to RFA, exports of DDGS were up 13% in July over June with over a million metric tons (mmt) exported. Mexico remained the top customer for DDGS exports, receiving 20% of the total, and Turkey imported nearly twice the volume it had in June. South Korea, Canada, and Indonesia rounded out the top five markets while shipments to China fell to their lowest level of the year at just 7,325 mt. Total year-to-date DDGS exports stood at 6.54 mmt through July.