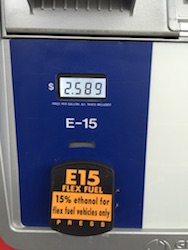 The national gas price average has increased 27 cents over the past week to $2.65 a gallon, but using more ethanol in fuel blends could help as refineries affected by Hurricane Harvey remain at below production capacity.
The waiver last week from EPA relaxing the Reid Vapor Pressure (RVP) requirement so E15 may be sold again in 38 states – two weeks ahead of the normal September 15 end to the summer gasoline blends – is already helping ethanol displace some of that lost production.
Nebraska Ethanol Board vice chairman Jan tenBensel says blending more ethanol can make the fuel supplies can go further, especially when drivers choose higher blends. "One of easiest things we can do to help with Hurricane Harvey recovery is use more ethanol," tenBensel said. "By using our homegrown, renewable fuel, we can allow petroleum to be diverted to areas that are in a greater need, which also helps mitigate price hikes."
Iowa Renewable Fuels Association Executive Director Monte Shaw says this is the first time EPA has taken action to allow ethanol to help expand fuel supplies and provide extra relief for motorists after a natural disaster. "President Trump and the EPA deserve credit for taking this common sense step," said Shaw. "The ethanol industry is ready, willing, and – most importantly – able to help."
Iowa and Nebraska are the top two ethanol producing states but both are subject to the summer RVP requirement and unable to sell 15% ethanol in the summer months. Since the waiver was implemented a week ago, both states have seen the differential between their gas prices and the national average widen from 5-6 cents lower to almost 10 cents lower, according to AAA Gas Prices. Most other states saw their price differentials stay about the same week to week.