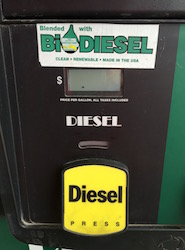 A new academic paper published in Biotechnology for Biofuels shows biodiesel's benefits are even better than previous models suggest.
"The power in these new findings is that science is improving," said Don Scott, National Biodiesel Board Director of Sustainability. "This is great news, because agriculture is our most powerful tool to turn solar energy and carbon dioxide into things like food and biodiesel. As these models look more and more like the real world, biodiesel's extensive real-world benefits come into focus."
The paper shows updated modeling from Purdue University "suggests the advantage of using biodiesel has been underestimated by 10 percent" because of old modeling that assumed biofuel policy induced land use changes and increased GHG emissions. The model now includes land intensification, and the resulting land use changes and emission values are lower as would be expected.
Without these indirect effects, biodiesel reduces greenhouse gases (GHGs) by 85 percent compared to fossil fuels. Including predicted indirect emissions estimates has lowered biodiesel's advantage to just more than 50 percent cleaner than diesel fuel. That is, according to modeling done by EPA in 2010 and CARB in 2014.