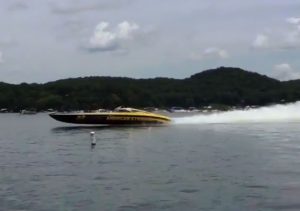 For the third year in a row, Don Onken's American Ethanol Mystic Powerboat recorded the fastest time to earn "Top Gun" honors at the recent 2017 Lake of the Ozarks Shootout.
The boat's crew hit a top speed of 204-mph run on a course that was shortened from 1 mile to 3/4 of a mile. "I'm very proud of the entire American Ethanol team. From the many people who put in valuable time and effort working on the boat, to Tony Battiato and John Cosker who are consistently breaking 200-mph speeds on the water, everyone on our team plays a role in the success we have had these last few years," said American Ethanol boat owner Don Onken.
The 51 foot Mystic powered by dual V-16 engines was designed to run on 90 percent ethanol by Onken, who is also an Illinois farmer who believes in supporting the ethanol industry.
"We are extremely proud of the American Ethanol Mystic racing team and the amazing job they continue to do year after year. Earning three first-place finishes in a row is truly an impressive feat that deserves celebration," said Growth Energy CEO Emily Skor. American Ethanol is a partnership created by Growth Energy with the support of the National Corn Growers Association.