panel featuring higher ethanol blend retailers
was a highlight of the
American Coalition for Ethanol
(ACE) 30th annual conference in Omaha last week.
Charlie Bosselman, owner of Nebraska-based Bosselman Enterprises and Pump & Pantry c-stores, and Bob O'Connor, owner of JETZ Convenience Centers in Milwaukee, Wisconsin, shared their insights on how the ethanol industry can help retailers add E15 and higher blends in the discussion moderated by ACE senior vice president Ron Lamberty. "We can come up with all kinds of programs that we think will move more ethanol, but we make the most progress when retailers tell us what they've learned and what they need from us," Lamberty said.
"I think ethanol has a great story," O'Connor said. "You get more power, more performance, it's local, and it's cheaper. We're all in the business to make money, and ethanol gave us an initial profit center."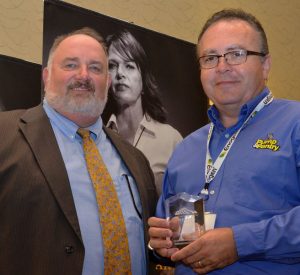 Bosselman echoed O'Connor in addressing why they got involved. "The simplest reason was to make money," Bosselman said. "There are a lot of benefits that come with that—our ability to market the fuel, tell a story to our customers—especially since we are in rural communities—about us and ethanol and the products that they grow on their farm and how it's all intertwined together."
After the panel, Lamberty presented Bosselman with the Paul Dana Marketing Vision award, which is presented to an individual or company that has exhibited leadership in ethanol marketing.
"ACE members recognize Bosselman Enterprises for leadership in committing to offer consumers choice at the pump, including the sale of higher blends like E15 and E85," Lamberty said.
Listen to the panel discussion here: Retail: Ethanol's Point of Opportunity
2017 ACE Conference Photo Album

A