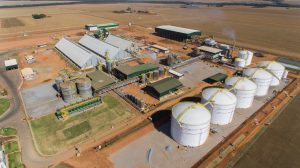 FS Bioenergia, Brazil's first large-scale corn ethanol production facility, is officially in production.
The plant, located in Lucas do Rio Verde, Mato Grosso, is the result of an international collaboration between Brazilian agribusiness Fiagril and U.S.-based Summit Agricultural Group headquartered in Alden, Iowa.
In its initial phase of operations, FS Bioenergia will annually process 22 million bushels of corn and produce more than 60 million gallons of corn ethanol, 6,200 tons of corn oil and 170,000 tons of valuable feed rations for Brazil's growing livestock industry. By 2018, FS Bioenergia's second phase of operations will increase corn processing and ethanol production two-fold.
The plant will help supplement existing sugarcane ethanol production to meet the country's increasing demand for domestic ethanol by using Mato Grosso region's substantial corn production. In addition, the plant's co-product of dried distillers' grains (DDGs) will serve as high-value feed for the expanding Brazilian livestock industry.
Summit Agricultural Group and Fiagril broke ground on the corn-only ethanol production facility in early 2016 and utilized process technologies from ICM, Inc.